Good reasons to come on one or more of the courses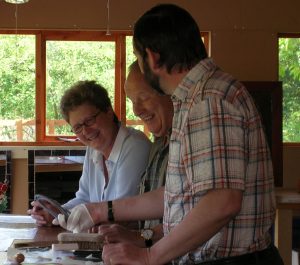 Highly rated courses (scoring over 95% across multiple criteria from feedback sheets to date, including exceptional value for money).
Courses build confidence, enabling you to gain experience and most of all – to create your very own piece of work to take home – either a completely original design or based on/copying from one of many existing patterns.
'All in' courses – no hidden extras, no particular restrictions
Pre-course contact – design guidance and discussion offered to ensure that time on the course actually spent working with glass, rather than a pencil, is maximised!
All materials are included and there is access to a wide range of professional tools
A wide range of glass choice
No need to run an account for materials used or be heavily restricted in your choice of glass to choose from
Great food & refreshments (as the feedback sheets say)
Access to a great library of stained glass books, from the UK and abroad, for inspiration and interest
Access to a huge range of stained glass patterns, to use or adapt as you wish
Discuss any glass related question
Useful set of aide memoire course notes supplied, to annotate whilst on the course and for reference afterwards
Fully insured
Great attention and tuition
Small class sizes
Both comprehensive group demonstrations and a great deal of individual attention are provided
A highly rated standard of tuition, assessing individual needs and responding to them based upon my own professional training
Wide experience – courses have been run for over 8 years
Full safety briefings
Feedback is welcomed and responded to at all times, resulting in a studio constantly evolving to best meet current needs
Great facilities – for your comfort and convenience
Purpose-built, light and airy custom-equipped studio
All resources are close to hand
Warm and cosy in winter – cool in summer, a great place to work
Working area and separate coffee area (and a lovely patio for the warmer months!)
A relaxing atmosphere within a garden setting which has been described as 'idyllic'
Special lighting over work areas to render colours more accurately
A wide range of professional tools are provided – meaning no significant wait for anything at any time
Private groups
A private course for your own group can also be arranged – great for friends/family groups or team bonding – please use the contact facility to arrange a discussion.